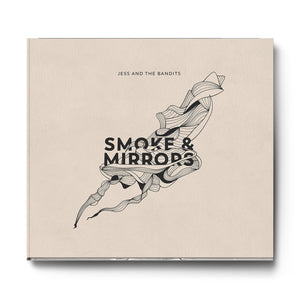 Smoke & Mirrors SIGNED Album
Jess and The Bandits Smoke & Mirrors album, signed by Jess.
Jess and the Bandits proved with their critically acclaimed debut album, Here We Go Again that they were a musical force to be reckoned with. Boasting a rock country sound delivered with raw and real grit and an infectious pop punch, the band has enjoyed the support of BBC Radio and TV. While they last toured the UK at the end of a riotous festival season in 2016, the quintet are finally set to return to the live circuit with Smoke and Mirrors - the long-awaited follow-up to their 2015 #6 Official Country Chart charting debut album. With lead vocalist Jess the happiest she has ever been, the writing process for upcoming album Smoke & Mirrors saw her in a very different frame of mind to those for the band's debut.
| | |
| --- | --- |
| 1 | I'm Not Going Home |
| 2 | Smoke and Mirrors |
| 3 | World Still Round |
| 4 | White Lies |
| 5 | Kings of Summer |
| 6 | Kiss Me Quiet |
| 7 | Gone Girl |
| 8 | Sister |
| 9 | Start A War |
| 10 | The Bullet |
| 11 | Already Written |
| 12 | Game Changer |
| 13 | Line of Fire |
| 14 | Fault Lines |